What do you want to know more about?
Bulk Earthworks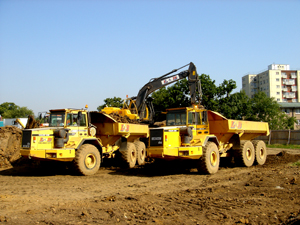 L&B is highly experienced in major commercial development projects. We have worked on some of the most challenging earthworks projects nationwide and utilise our expertise and unrivalled range of specialist equipment to deliver innovative solutions to taditional and new problems. Our commitment to cost effective and safe working practice means we are continually reviewing traditional methods. We are particularly experienced in:
Remediation of Contaminated Sites
Earth Retention Systems
Bulk Excavation
Archaeological Attendance
Basement Excavation
Where necessary L&B makes full use of synergies across different practice areas and recycles and reuses all material excavated.
You can view photography of L&B's Recycling services in action in our
Bulk Earthworks Gallery
.

Construction and Civil Engineering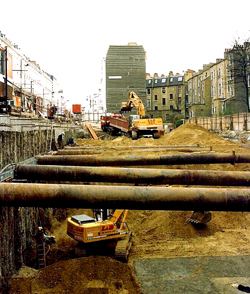 We are highly able in all aspects of Civil Engineering, providing the right people and specialist equipment. We have worked with a diverse range of organisations across the public and private sector. We specialise in:
Excavation
Foundations
Underpinning
Drainage
Retaining Walls
Basement Structures
Suspended and Ground Bearing Slabs
Super Structure Works
Insitu RC Cores and Frame Structures
You can view photography of L&B's Construction division in action in our
Construction Gallery
.

Demolition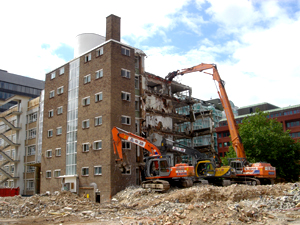 With over 30 years of experience in this sector we are highly accomplished in traditional demolition methods. Increasingly, we are tackling projects which require asbestos removal, emergency demolition and decommissioning services in both the public and private sectors. We operate successfully in the following areas:
Demolition of office/residential blocks
Soft Stripping
Partial Demolition of Listed Properties
Demolition of hospitals, schools and other public sector structures.
Demolition of bridges and reservoirs.
You can view photography of L&B's Demolition division in action in our
Demolition Gallery
.

Plant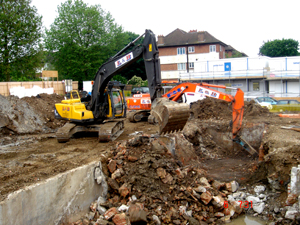 Our company has an extensive range of operated and non operated plant which serves our own specialist demolition contracts and groundwork projects. Included in this fleet various mobile crushers and screening equipment which are operational at our Waste Recycling depot located in London NW10. Our recycling plant and equipment is the most modern on the market and we continue to work closely with equipment manufacturers to constantly update in an effort to improve efficiency to ensure compliance with the ever increasing standards demanded.

Haulage
Our service portfolio includes site clearance and muck away from inert material to Hazardous materials. Offering a total service solution we can excavate with our own machines, recycle materials on sites with our mobile recycling plant equipment and /or remove waste materials to a licensed landfill and supply recycled aggregates using our own fleet of tipper lorries.
We operate a fleet of eight wheeled 32 tonne tippers and 38 tonne articulated tippers fitted with light weight bodies allowing the eight wheelers to carry 20 tonne loads therefore maximising tonnage and productivity for our clients. All vehicles are radio controlled and fitted with computer tracking devices. Maintenance for our fleet is carried out using our in-house workshop and directly employed workshop staff ensuring guaranteed reliability.
You can view photography of L&B's Haulage vehicles in action in our
Haulage Gallery
.

RC Frames
L&B can meet the demands of major building works with professionally designed and constructed reinforced concrete frames.

Site Clearance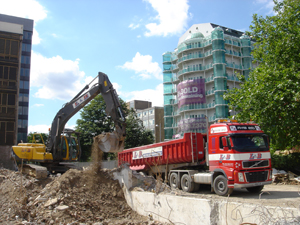 L&B Undertakes all aspects of site clearance and endeavours to return your site in a condition ready for immediate development. Our all round site clearance service is prepared to tackle:
Remediation of Contaminated Sites
Waste Disposal
On-site Security
Plant removal
Demolition Works

Waste Management and Recycling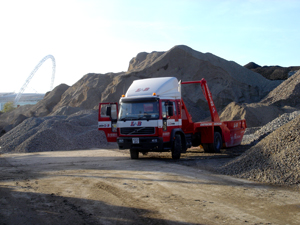 Environmental sustainability
It is identified by our clients as a key element required for successful construction. L&B's waste management operations are committed to comply with full implementation of the Environment Protection Act 1990 and any amendments. The company seeks to promote the conservation and sustainable use of natural resources and minimise environmental pollution by its influence over others. We reuse, recycle and recover materials and waste produced during all phases of the project.


Temporary Works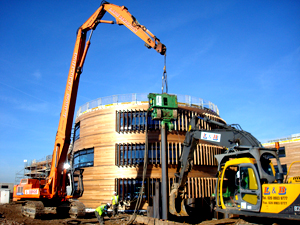 L&B are highly experienced in the design and construction of temporary support structures which often hold the key to a successful construction project. Our expertise extends to a wide range of different temporary support systems. We are also familiar with all aspects of the structure's inspection and maintenance, drawing on our knowledge of exacting health and safety requirements.