L&B are fully conscious of the profound impact their activities can have on the environment.
As a result, we are committed to minimising adverse effects resulting from our operations. In addition we make use of all available natural resources and as such pay particular attention to the reclamation and reuse of recyclable materials.
You can view photography of L&B's Recycling services in action in our
Recycling Gallery
.
Our constantly reviewed Environment Policy sets out the following aims...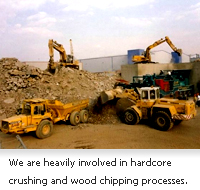 Effective recycling of material.
Environmentally conscious site management.
Favouring products, materials or methods which reduce or control pollution.
Reduction and safe disposal of waste.
Using energy more efficiently
Use of innovative new technologies to tackle old problems.
Conduct in absolute accordance with English and EU Legislation, regulation and guidance.
Environmental sustainability
It is identified by our clients as a key element required for successful construction. L&B's waste management operations are committed to comply with full implementation of the Environment Protection Act 1990 and any amendments. The company seeks to promote the conservation and sustainable use of natural resources and minimise environmental pollution by its influence over others. We reuse, recycle and recover materials and waste produced during all phases of the project.
L&B has a range of high-end facilities at its London base to effectively manage and recycle large amounts of material previously excavated or reclaimed from demolition works. We are heavily involved with hardcore crushing and wood chipping processes.
The management, at all times ensure that the means are available within the company to facilitate the abovementioned aims. They are also responsible for the monitoring and implementation of policy and procedures.